We're a bunch of pulp fiction fans who also love audio drama. So we decided to combine the two.
Our group is led by Roger Rittner, an award-winning communicator and producer of audio programming for National Public Radio, local Los Angeles radio stations, and commercial clients.
Among Roger's radio projects are the now classic Adventures of Doc Savage, the mystery series Darkness, the suspense series Midnight, and the musical comedy Charlie Sent Me!, all heard on National Public Radio stations. Roger produces audiobooks of classic pulp favories Doc Savage and The Spider for RadioArchives.com. Roger also created the Variety Arts Radio Theatre, which recreated old-time radio shows as live stage productions for more than 10 years at Los Angeles' Variety Arts Center.
The cast and crew of Pulp Radio are accomplished voice and sound effects artists, and audio production professionals. You've heard their work in hundreds of films and television shows, radio commercials, and video games.
Back to top
---
Do you own the original stories? (About copyrights.)
We are careful to dramatize and produce only stories that are in the public domain, or are otherwise not covered by copyright. We research every story in an attempt to avoid infringing on anyone's ownership.
However, determining ownership on stories from the pre-1960's can be difficult. If anyone has evidence that a story we've dramatized is currently protected by copyright, or under ownership rights that would be compromised by our use, please contact us at once:

Back to top
---
Are the shows suitable for children?
We think our productions are just as suitable as anything currently on television. (Maybe more so!) However, pulp stories are, by their very nature, often filled with action and suspense that may be too intense for children under 14. We suggest you listen to the shows before making them available to children.
"Spicy" Stories. The exception is our versions of pulp stories originally referred to as "the Spicies". Spicy pulp stories were provocative (for the time) and may contain references to nudity, violence, and suggestive sexual activity. While they're pretty mild by today's standards, we insist that anyone ordering Spicy shows must confirm that they are at least 18 years of age or older.
If in doubt, please contact us before ordering for a detailed description of any of our shows:

Back to top
---
Downloadable files are delivered in MP3 format at 192kbps (CD quality). More on download files here.
If you order on CD, the shows are recorded in standard CD audio format (.cda). Your order is custom recorded with only the shows you purchase. Depending on the number and length of the shows you purchase, they may be combined on a CD, or may come on separate CDs. Since your order is custom produced, it may take a day or two to get your shows into the mail. Please be patient.
Back to top
---
Do I need any special equipment or software to listen to the shows?
Pulp Radio CDs can be played on any CD player that can read CD-R discs. (All recent CD players and most car CD players can read CD-R.)
You can listen to downloaded Pulp Radio files on any device that can play an MP3 file. There are hundreds of hardware and software products that play MP3 files. Some software players are pre-loaded on computers, or can be downloaded from the Internet. Many of them are free. Some popular ones are:
If you have an iPod, iPhone, iPad, or other iTunes device, you can use your iTunes software to convert the file to an iTunes compatible file, if necessary.
Back to top
---
Can I transfer a Pulp Radio show to any audio player I own?
Yes. Pulp Radio shows are not copy protected. After purchase, you may load the file onto any device you own, as many times as you like. You may also burn the file to a CD, either as an MP3 file or convert it to an audio CD with the proper software.
But please remember that Pulp Radio shows are copyrighted. You may not share them with anyone else, upload them to file sharing sites, or use them in public performance or broadcast. Please respect our creative efforts. (You can refer to the Copyright Notice and our overly wordy legal policy here.)
Back to top
---
What kind of information do you collect and how it is used? (Also known as our Privacy Policy.)
Pulp Radio does not collect personal information about you when you visit our Web site, unless you provide it to us (for instance, to be added to our mailing list). Any information we collect in this way will not be provided to any outside company or organization. The only exception is if we must satisfy any law, regulation or legal request; if we need to protect the integrity of our Web site; or if we are required to cooperate in any law enforcement investigation or an investigation on a matter of public safety.
We use PayPal to process all financial transactions on our Web site. In this way, Pulp Radio does not have access to your credit card number or any financial information that you provide when your purchase one of our products. PayPal is responsible for securing your financial information. Details about how your financial information is secured are available on PayPal's privacy policy link.
As part of the purchase and fulfillment process, however, you may need to provide information such as your name, address, email address, zip code or telephone number. This information is not provided directly to Pulp Radio, but will go to PayPal to process the credit card and other financial information necessary to complete a transaction. Since this information is provided directly to PayPal, we are not responsible for the use of your information by them. Please review PayPal's privacy policies before placing your order. If you do not agree with their privacy policies, you can order by mail.
Back to top
---
Will your Privacy Policy change?
Our privacy policy is effective as of May 2009. From time to time, it may be necessary for Pulp Radio to change this policy. If we change our privacy policy, we will post the revised version here, so we suggest that you check here periodically for the most up-to-date version.
Back to top
How long are Pulp Radio shows?
They vary in length, just like the original pulp stories. Most are between 20 and 30 minutes, although we are considering some longer (novelette-length) productions.
Back to top
---
Why do shows have different prices?
We price our productions primarily based on running time, with some variations based on content.
If you order CDs. Depending on where you live, we may be required to add sales tax or VAT if you order CDs. When you order, you have your choice of USPS shipping rates.
Back to top
---
We're sticklers for audio quality. Pulp Radio productions are all digital from beginning to end. We record in top studios in Los Angeles, and do all post production using professional-grade digital audio software. The download versions are 192kbps resolution (CD quality). CDs are individually recorded using only Taiyo Yuden blanks on either Pioneer or Plextor CD burners.
Back to top
---
How do I get Pulp Radio shows?
You can obtain Pulp Radio programs in two ways: by direct download as MP3 files, or by ordering an audio CD.
1. If you choose to download your purchased programs, you will receive a download link via e-mail. Click on the link and choose to save the file to your hard drive. The link will expire after 3 download attempts or 5 days.
To ensure the best quality sound possible, we create the MP3 files using high bit-rate codecs. This means the files are large, and may take some time to download to your computer. If you have a dial-up or slow broadband connection, be prepared to wait a while.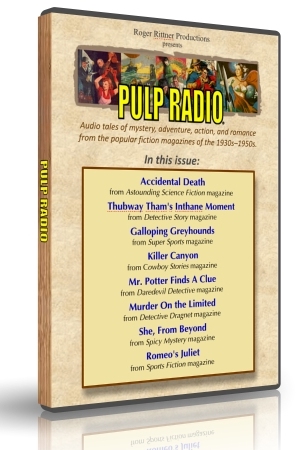 2. If you order a CD, we custom create the disc to your order. You receive only the programs you've ordered. No "filler" or unwanted files. Since this custom recording takes a while, it may be a few days before your discs are shipped. However, they come with a colorful label, in a sturdy storage case. This customized package is worth waiting for.
Back to top
---
How are your downloadable products delivered?
Downloads are delivered to you immediately after purchase is confirmed.
After your purchase is confirmed, you will receive an e-mail to the address you provide at checkout, which will include the download links. The download links will expire after 3 download attempts or 5 days. (If you are unable to download the file(s) within this timeframe, please contact us


to re-enable the link(s).
Back to top
---
How do I purchase Pulp Radio shows?
When you purchase Pulp Radio programs, you pay through PayPal. PayPal is an online service which processes credit card payments for us. You may have heard of them - or even used them - if you use eBay. Millions of users trust PayPal's security record to keep their valuable information safe.
When you use PayPal, we see only your name and address - not your financial details. If you order a CD, we use the shipping information you provide. You may also pay with PayPal - but you do not need to create a PayPal account to use your credit card on PayPal.
Back to top
---
Do I have to have a PayPal account to purchase from Pulp Radio?
No. We use the PayPal system to facilitate your purchase. If you have a PayPal account , you may use it, or you may use any major credit card. When you're ready to check out, click on the PayPal logo in the shopping cart. You will be prompted to either log in to PayPal (if you have a PayPal account) or click Continue under "Don't have a PayPal account?" to purchase using a credit card.
Back to top
---
What if I don't want to order online?
If you are uncomfortable ordering online, you may order by mail. Click here to open an order form. Print it out and fill in your order. Mail it to the address on the form along with a check or money order. Don't forget to include the shipping cost, and sales tax if you live in California.
Back to top
---
Do you have links to other pulp or radio drama sites?
To offer you a broader experience, we may occasionally include links to other Web sites offering pulp fiction or radio drama merchandise or information. We are not responsible for the policies and practices of other companies, and any information you submit to those companies is subject to their privacy policies.
Back to top
---

We look forward to your comments about Pulp Radio. Or questions about our productions. Or suggestions about your favorite pulp stories to record. We look forward to hearing from you. Send us an e-mail:


You may also request to be added to our Mailing List to be sent announcements of new and upcoming Pulp Radio productions. (Please see our Privacy Policy, above.)
Back to top